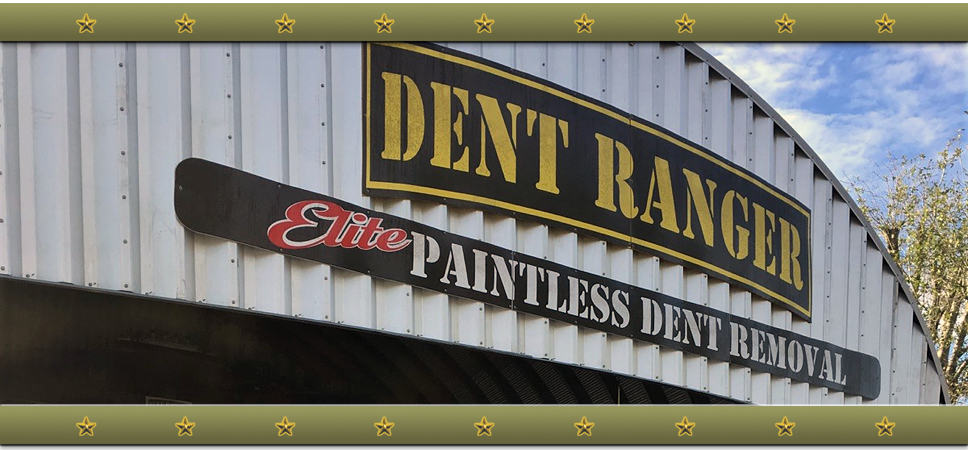 Frequently Asked Questions
Q: Why should I use Dent Ranger instead of a body shop?
Dent Ranger has mastered Paintless Dent Removal. He is the best of the best, down to earth and will tell you like it is. He will save thousands of dollars from keeping your repair off a Carfax report and will also save you time and money on the actual repair. He has 28 years' experience in the automotive repair industry, 14 of them with PDR. He's very passionate about PDR and loves his work.
Q: When are you open?
Dent Ranger is open 7 days a week. Call ahead before coming 386-451-5364.
Monday – Saturday 9:00am – 4:00pm
Sunday 11:00am – 4:00 pm
Q: Where are you located?
Daytona Flea and Farmers Market
Booths' H1 64-67 (In front of the Nursery)
2987 Bellevue Ave, Daytona Beach FL 32124
Click Here for Map and Directions
Q: Can the Dent Ranger fix my dent?
Bring in your vehicle for a free estimate and the Dent Ranger will be able to let you know if he can remove the dent. In most cases, yes he can.
Q: Will I be able to see the repair once the Dent Ranger is done?
Depends on the severity of the dent, but the Dent Ranger has mastered his trade and is the best at what he does. He will let you know what to expect once he sees your vehicle.
Q: How much will it cost?
General costs are below but prices also vary by difficulty and location of the dent. Dent Ranger is usually 30-50% less expensive than a paint and body shop. Check out or price list here .
Q: How long will it take?
Most repairs are able to be completed the same day. Average repair for a single dent that is a half dollar or smaller is about an hour. If spot paint is needed it will take a 24 hour turn around.
Q: How do you remove a dent?
The Dent Ranger uses fulcrum and leverage as well as artificial light with darkness and natural light to create a reflection in order to read the direction of the dent and he reverses motion.
Q: What if I have a dent and paint blemish. Can the Dent Ranger still fix it?
The Dent Ranger prefers to remove a dent if it is conjunction with spot paint repair. There is a spot painter onsite Monday-Thursday and there is a 24 hour in order to repair the dent and spot paint.
*In most cases, we cannot spot paint hoods, roofs, or trunks*
Q: Do you repair Motorcycles?
Yes. Dent Ranger will repair fenders for $150 and gas tanks for $250 (prices with no paint damage).