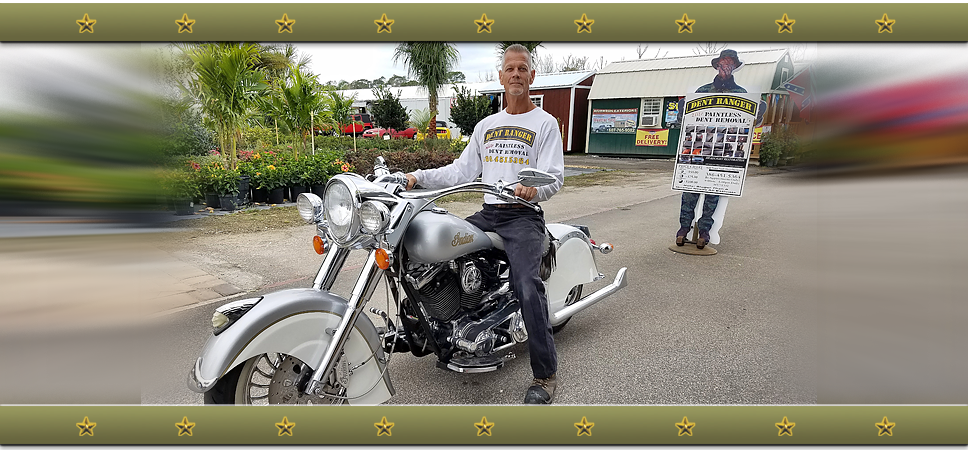 Wayne's World
Wayne Walker was born and raised in Miami, Florida. He graduated from Miami Killian High school in 1980, then joined the U.S. Marine Corp and became a reconnaissance marine immediately after boot camp and infantry training school. He served from 1980-1984, with 2nd and 3rd reconnaissance BNS.
After serving our country, Wayne went to work for the family's utilities business for the next four years. In 1989, he ventured out on his own into the automotive repair business and in 2000; his cousins introduced him to Paintless Dent Removal (PDR) and mentored him.
It took 5 years of training for Wayne to remove a dent the size of a dime on a flat panel! 5 years! Once he could remove a dent using PDR flawlessly he then started Dent Ranger in 2008 and the rest is history. Wayne's cousins had created one of the best PDR Master Techs in this part of the world.
What separates the Dent Ranger from the rest? He didn't learn the PDR trade on other people's cars, trade-ins or collision shops, he trained and learned with the best. Wayne is very passionate about Paintless Dent Removal and loves what he does.
Dent Ranger has 28 years of experience in the retail automotive repair industry. He has maintained A.S.E. certifications when necessary in the areas of brakes, alignment, A/C and service consultant.
Reconnaissance Marine Creed
To this day, I live my life by the principles of the Reconnaissance Marine Creed:
Realizing it is my choice and my choice alone to be a Reconnaissance Marine, I accept all challenges involved with this profession. Forever shall I strive to maintain the tremendous reputation of those who went before me.
Exceeding beyond the limitations set down by others shall be my goal. Sacrificing personal comforts and dedicating myself to the completion of the Reconnaissance mission shall be my life. Physical fitness, mental attitude and high ethics – the title of Recon Marine is my honor.
Conquering all obstacles, both large and small, I shall never quit. To quit, to surrender, and to give up is to fail. To be a Recon Marine is to surpass failure; to overcome, to adapt and to do whatever it takes to complete his mission.
On the battlefield, as in all areas of life, I shall stand tall above the competition. Through professional pride, integrity, and teamwork, I shall be the example for all marines to emulate.
Never shall I forget the principles I accepted to become a Recon Marine; Honor, perseverance, spirit and heart.
A Recon Marine can speak without saying a word and achieve what others can only imagine.